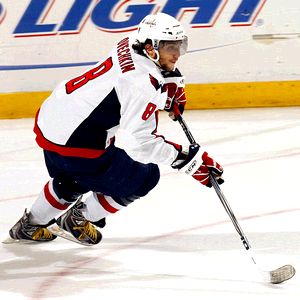 What can I possibly say about last night's game that Islanders fans have not heard already this season and in season's past? Luckily, for those in attendance at the Coli and those watching on Versus, you were treated to a pretty exciting game with the same dreadful ending we've come to expect from a team that is struggling to right the ship over the past 10 games. One might ask: "Why am I lucky having watched last night's game?". Well to put it succinctly you were witness to the first full 60 minute effort the Islanders have put on since early November.

Most NHL teams go through a snide where the bounces don't go their way, the effort isn't there and the losses start to pile up. For the Islanders, December seems to be the month where all of the hard work that has been built upon since September comes to a crunching halt. For some reason when the calendar turns over for the final month of the year it seems the Islanders pack their bags and wait for the Holiday Roster Freeze to come before taking their usual trip out West to start the New Year. There really is no explanation as to why this happens but as a fan of this team for many years, it just seems that it's an unavoidable truth.

However, despite losing in OT last night to a very strong Capitals team, the Islanders showed the resilience that fans only got a glimpse of in November. This team has sat back in so many 3rd periods this season it's uncanny how they were able to forecheck their way to massive leads only to have it all come crashing down in one 20 minute period. Last night, the Capitals cruised into the 3rd with a 4-2 lead and the Islanders had to claw their way back in. Half-way through the 3rd it seemed that the Islanders were headed toward yet another regulation loss. Boy, did they have everybody fooled. On goals by "offensive superpowers" Andy Sutton and Jon Sim, the Isles were able to knot it at 4 and force the game to OT.

Unfortunately for us fans, the Isles couldn't put in a full "65 minute" effort. Throughout the OT period there were screams and yells to watch that guy on the other team wearing #8 (wonder who he is). Ovechkin got a low backhand shot off that ticked off the inside of the short side post and slid across the goaline only to deflect off the far side post and out with about a minute left in OT that caused Stephen Hermann of IslesNation.com to nearly have a heart attack on the spot. After that near miss, 45 seconds later Alex the Gr8 took a feed off a terrible giveaway by Doug Weight near the blueline and skated it to the high slot and fired one just inside the post while off-balance with 10.7 seconds remaining in the extra frame to win it for the Caps. You simply cannot give a player with Ovechkin's talent two chances to put the game away from such prime scoring areas.

It is my sincere hope however, that the Isles pull the positives out of this OT loss. They skated hard, they played their system, they battled when the chips were down, but still came up short. No reason to hang your heads yet boys. The season is a marathon, not a sprint.

Last Night's Live Blog

I want to thank all of those who participated in last night' s grand experiment as the Blog Boxers got a chance to chat with fans during the game. I would personally like to extend my thanks to Dee Karl of 7th Woman, Tom Liodice of The Tiger Track, Glen Vogel of MrLawyerDude, Mike Gasparino of Still Drivin', Ken Rosenblatt of Islanders Outsider and Gary Harding of View from Section 317. To those who joined in the discussion, Dominick from Lighthousehockey.com, Acards from the Islanders Country boards, John from YesIslanders.com and The Moose, you guys were awesome last night and I hope that we can get the Live Blog up and going again soon.