There's a saying: "To run a convincing bluff, sometimes you have to be holding all the cards". In Garth Snow's case at this year's NHL Entry Draft, he was holding a Royal Flush and no one could find any tells to exploit.

Major props have to go out to the Islanders Amateur Scouting Staff for their exceptional work at choosing talent that the fans can rally behind. Obviously, John Tavares was a no-brainer. Even if the Islanders decided it was better to keep everyone guessing.

However, selecting Calvin de Haan with the #12 (moving up twice from #26 to #16 to #12 to snag him) was about as shrewd and well-received as it gets. What most fans didn't hear from the behind the scenes chatter was that there were A LOT of teams looking to take de Haan. It's been said that when Minny traded the #12 to the Isles, they expected the Isles to take power forward, Zach Kassian (consequently taken at #13 by Buffalo) at 12 and thus leaving de Haan for them at #16. Boy, were they wrong.

Who wouldn't want a defenseman who had 63 points (8 G, 55 A) in his rookie season in the OHL? Well, you can really look no further than Florida, who took Dmitri Kulikov at #14. Kulikov had similar numbers to de Haan's but on a much better Drummondville team. That only makes de Haan more intriguing when one looks at the overall picture.

Day 2 started with choosing a "monster" (sorry Pierre McGuire) goalie in Mikko Koskinen. If you didn't get a chance to check out the YouTube video I found on him, you need to take a look (he's the goalie in white):

Koskinen is the real deal. When he goes into the butterfly, his pads extend beyond the posts. Despite losing the shootout in the video, you can tell that he has a high degree of athleticism for a young man his size. With some work at the AHL level, he could challenge for an NHL job in a few years. The raw talent is there.
The other prospect that really intrigues me is
Anders Lee
, who was taken with the Islanders final pick in the Draft, in the 6th round. He is a two-sport athlete that has shown a great amount of talent at both hockey and football. Beyond his size and speed on the ice, he's been scouted as a quarterback by Division 1 colleges. Scouts always applaud two-sport athletes because it gives them an extra dimension that only one-sport athletes don't have. His size alone garners a description by HockeysFuture.com, who called him a "man-child". If he's given time to develop then this could be the best value pick behind the top 2 in this entire Draft.

UFA Day is Upon Us

I have some thoughts on what the Islanders might do. I wouldn't expect there to be any free agent defenseman that will come down with a big splash in the Long Island Sound. More than likely we're definitely looking at a backup goaltender and possibly a bruiser/enforcer/4th line sporadic scorer.

My best guesses as to who the Islanders could target for that 4th liner is none other than soon to be former Ottawa tough guy: Chris Neil.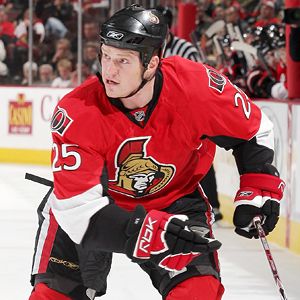 As for the goalies, I can't even begin to guess who will be in the Isles sights. I'd look for the likes of Craig Anderson, Ty Conklin and Scott Clemmensen.



Native Long Islander Joins the Fold
The Islanders swapped a prospects today with the New Jersey Devils and received a former New York Bobcat of the AJHL. Here's the official press release:

FOR IMMEDIATE RELEASE

ISLANDERS ACQUIRE ROMANO AND CONDITIONAL PICK

Islanders Receive Peterborough Leading Scorer From New Jersey In Exchange for Walter

UNIONDALE, NY, June 30, 2009 – The New York Islanders have acquired Tony Romano and a conditional pick in the 2012 National Hockey League Entry Draft from the New Jersey Devils in exchange for center Ben Walter.

Romano played the last two seasons in the Ontario Hockey League. The Smithtown, NY native was the leading scorer for the Peterborough Petes last season, scoring 36 goals and 33 assists for 69 points in 65 games. The year prior, Romano skated in 66 games for the London Knights and registered 22 points (12 goals and 10 assists). Romano was drafted in the sixth round (178th overall) of the 2006 NHL Entry Draft and played that same year for Cornell University where he totaled nine goals and 10 assists for 19 points in 29 games.

Walter spent the last two seasons with the Bridgeport Sound Tigers where he accumulated 116 points. He played in a total of 12 games for the Islanders during his two seasons with the organization scoring one goal.

---newyorkislanders.com---


That's the info I have for you up until now. I'll be back tomorrow with any updates on the Islander front as the day progresses. Remember, the start of Free Agent Frenzy is 12:00 PM sharp.

Catch you guys tomorrow.